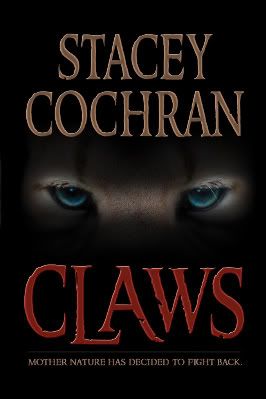 Click here to check out Claws on Amazon.
Jeremy, thanks so much for the opportunity to guest blog at your place about my new novel CLAWS. Not only are you a tremendously gifted writer, but you're tremendously generous as well. Thanks so very much.
So what is CLAWS?
CLAWS is a thriller that centers on a wildlife biologist named Angie Rippard who is drawn into a police investigation when two of her students at the University of Arizona are found dead on a golf course early one morning. Rippard suspects the teens were killed by a large mountain lion.
If you're a fan of Michael Crichton, Steve Alten, Scott Sigler, or Lincoln Child, you'll find a lot to like in CLAWS. I love those writers, and my book was born out of a love for the kinds of thrillers these great writers create.
I am currently kicking off a 45-day blog tour to promote CLAWS, and have been absolutely astonished by the good will of bestselling writers who have given me a spot to guest blog about my little-engine-that-could novel.
So the topic of today's guest blog: What are your favorite novels?
What are the books that you return to time and time again over the years? And why?
For me, I have probably read Michael Crichton's Jurassic Park and Sphere more than any other novels. My copy of Jurassic Park is absolutely falling apart because of how many times I've read it. What Crichton seemed to do in that book better than anywhere else in the first part of his career was to wed science, plot, and character together into a compelling brew.
By bringing kids into the center of his story, he created a tenderness and vulnerability that was absent from many of his earlier novels. And let's face it; it's a hell of a concept. Maybe the most plausible (and timely) concept of any of his novels up to that point in his career.
So how about you guys? What are some of your favorite novels of all time and why?
Labels: claws, guest blog, mountain lion, novel, stacey cochran